WHY YOU SHOULD CHOOSE VINYL SIDING
Builders and Remodelers
The material you select for your home's siding affects more than just the visual aesthetics of your home. Siding provides layered protection to the exterior of a house or a building. Think of it as the first line of defense, shielding against elements such as weather, winds, and UV rays. Siding is also responsible for maintaining a consistent and comfortable environment on the inside of your home.
VINYL SIDING – ALL YOU NEED TO KNOW
WHAT IS VINYL SIDING?
Vinyl siding is plastic-based, ideal for waterproofing and extremely versatile for decoration of the exterior of your premises. Comprised of PVC, vinyl siding is capable of imitating the natural look of wood and other popular materials and comes in various designs such as boards, battens, shakes, and clapboard.
There is huge variety in terms of durability and design flexibility for different types of Vinyl siding. A builder's grade vinyl thickness is usually 0.040". Greater thicknesses are appropriate in some cases, though at a higher price.
WHY VINYL SIDING?
Vinyl siding is the most popular choice for siding material amongst homeowners today. Over 30 percent of homeowners opt for vinyl siding to enhance their home's look while keeping expenses low.
1. AFFORDABILITY
When it comes to affordability, vinyl siding is one of the cheapest options. Fiber cement siding costs four times more than vinyl siding in comparison. This translates to huge savings for the homeowner. No matter what other materials are on the table, vinyl siding will always be the most budget-friendly option offering durability at a low cost.
2. LASTING COLOR QUALITY
Almost all other options available in the siding landscape rely on the outer layer of color, which is not the case with vinyl siding. The chosen color infuses to the core of the material during the manufacturing process. Therefore, the whole panel has color all the way through. These homogeneous colors are resistant to abrasion, stripping, or scratches during transportation and installation. If you don't wish to have to periodically refresh the exterior color of the house, then vinyl siding is your best bet as it never needs painting.
3. LOW MAINTENANCE
To some this is the best advantage of them all; with vinyl siding you don't have to worry about cobwebs, dust, and debris. Anything that accumulates on the siding slides away without any hassle when you spray your vinyl siding with a water hose. As the color is infused in the material itself, you don't have to worry about it coming off or wearing down.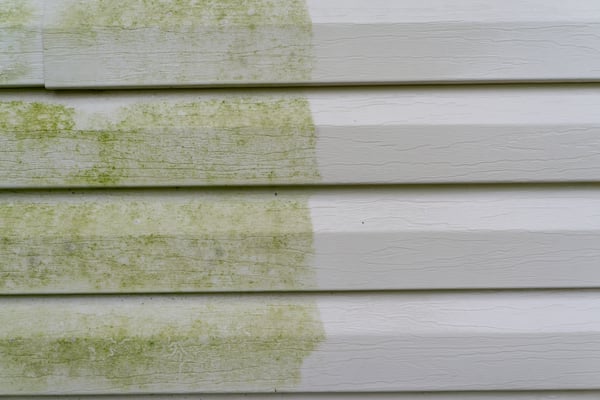 4. DURABILITY
No other material comes close to the durability that vinyl offers. Manufacturers of vinyl siding add titanium oxide to the synthetic plastic polymer mix, which plays a critical role in saving vinyl siding from UV rays. This prevention of exposure to sunlight limits the usual wear and tear and cracking due to fluctuating temperatures. In addition, vinyl siding is recyclable so you can often find pre-owned vinyl in a variety of thicknesses still in good condition for use. If maintained properly, vinyl siding can last for over 60 years.
5. EASILY RECYCLABLE
You can rest assured you have made the environmentally friendly choice if you choose vinyl siding. PVC, the core material of vinyl siding is a synthetic plastic polymer which is easily recyclable in comparison to wood, asbestos cement tiles, or fiber-cement. PVC can melt upon heating and be remodeled into any shape or form, which reduces the need to produce new material for other products. You can recycle used vinyl siding to make a new siding with a completely different appearance.
6. PROPERTY VALUE
The popularity of vinyl siding has grown since the improvement in technology and options. According to a study, vinyl siding can get you better rates on your property value, covering over 74 percent of the vinyl cost. On account of this, it is a good investment with guaranteed cost recovery.
7. FIRE SAFETY
Vinyl siding is also the safer option in case of a fire. As vinyl siding uses a chlorine base, it is flame-retardant and ignites slowly. PVC does not self-ignite unless it reaches 730o F – 850o F, with an external flame introduced. In addition, its high-limited oxygen index means it extinguishes easily.
MAKE AN EDUCATED CHOICE
At Builders & Remodelers we can help you keep your home looking beautiful with our vinyl siding services. Since 1952, we have been providing exceptional siding solutions. Builders & Remodelers take the time to get to know our customers, and we tailor every service and installation to each homeowner's individual needs. Using our years of vinyl siding experience we have been able to suggest superior siding options that beautify the exterior of any home.